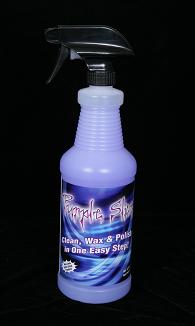 PURPLE SLICE
32oz Spray Bottle
Only $25
THE ULTIMATE FINISH IN ONE EASY STEP!
Gives painted surfaces a brilliant shine in seconds
Cleans and removes oxidation, bug splats, sap, droppings and other contamination
Safe for clearcoats... great on chrome and wheels!
Gives long lasting protection and water beading
No water needed
Easy to use - Just spray on and wipe!!
---

PURPLE SLICE
ULTIMATE CLEANER
32oz Spray Bottle
Only $25
SPRAY ON AND WIPE OFF!
All purpose concentrated cleaner
Degreaser & spot remover - spray on & wipe off
No Bleach
No Ammonia
No acid
Non flammable


Gives plain water cleaning power, cleans everything that's washable
---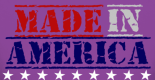 ---
It's all about the finish!

---

The Ultimate Finish in one Easy Step!
Purple Slice is among the world's most Revolutionary and Advanced Speed Detailers.
Take the Purple Slice Challenge - and compare Purple Slice to any other detailer

In head-to-head comparison, Purple Slice was tested for reflectivity, depth, shine, water resistance and ability to shed dust against the available products on the market.

Purple Slice was named the NUMBER ONE PRODUCT OVERALL!!

Purple Slice works inside and outside your home to beautify and protect your most valued investments.

No more greasy films, drying, streaking or build up,
Purple Slice keeps things looking "show room" new with minimum effort for ULTIMATE results.

Purple Slice is the only product on the market that can be used in DIRECT SUNLIGHT and on HOT surfaces with NO STREAKING or STAINING!

Purple Slice is safe to use.
It is Bio-degradable and contains No Solvents or Toxins


Review Material Safety Data Sheet Here


ALL METAL POLISH
8oz
Only $20

ALL METAL POLISH is the perfect all metal polish. It removes minor scratches and dullness. It restores the sparkle and shine to aluminum, brass, magnesium, chrome, copper, pewter, silver and stainless steel. All Metal Polish cleans plastic headlights and restores the clear, bright appearance. Safe for painted surfaces.


WET WET
12oz can
Only $25





NO WIPING REQUIRED
WORKS INSTANTLY

A clean, non-foaming coating which provides a water-resistant high gloss shine. This product brightens and renews any vinyl, rubber or plastic surface. Great for those hard-to-reach places. Use for doors seals, rubber bumpers, a/c vents, etc.

Excellent on Rubber, Vinyl and Plastic


BETTER LEATHER
8 OZ
Only $20


EASY ONE STEP LEATHER RESTORER/CONDITIONER!

Use on Auto Upholstery, Saddlery, Jackets, Briefcases, Belts, Sports Equipment, Shoes, Furniture, Handbags, Motorcycle Leather and much, much more!




PURPLE SLICE
1 Gallon
Only $75